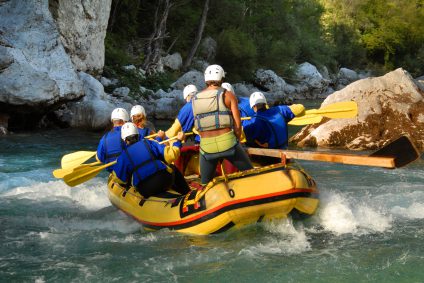 Risk assess­ment began as a dis­cip­line in the late 1960s, with some of the earli­est form­al papers pub­lished in the early 1970s. The early research­ers were part of the US mil­it­ary and were inter­ested in find­ing ways to reduce the risks for mil­it­ary per­son­nel car­ry­ing out their duties.
Since then, risk assess­ment has become a key part of redu­cing risk to man­u­fac­tur­ers, employ­ers, and work­ers. Today, extens­ive risk assess­ment research is being done by organ­iz­a­tions and uni­ver­sit­ies around the world.
You may not real­ize it, but you already do risk assess­ments every day, in every task and activ­ity you do. The moment when you pause to con­sider what might go wrong and what you can do to avoid that – that's a risk assess­ment. You just aren't writ­ing it down or using any defined scor­ing tools to do it.
WHAT

IS

RISK

ASSESSMENT

?

Risk assess­ment is an incred­ibly wide top­ic. Since this web­site is focused on indus­tri­al machinery safety, this dis­cus­sion is lim­ited to machinery. Risk assess­ment is essen­tially an orderly, meth­od­ic­al pro­cess where things that can do harm to people, anim­als or the envir­on­ment, called haz­ards, are iden­ti­fied, the sever­ity of injury posed by each haz­ard is estim­ated, and the prob­ab­il­ity of occur­rence of the injury is estimated.

For risks that are con­sidered to be "intol­er­able" or "unac­cept­able" based on applic­able laws, reg­u­la­tions, stand­ards and pub­lic opin­ion, con­trol meas­ures are applied to reduce the risk.
RISK
CONTROL
Risk con­trols are applied based on the 'Hier­archy of Con­trols". In North Amer­ica, the Hier­archy is con­sidered to have five levels, while in the Inter­na­tion­al Stand­ards only the first three levels are recog­nized. This dis­crep­ancy exists because ISO and IEC stand­ards are writ­ten from the per­spect­ive of the product design­er, and the last two levels are only avail­able to work­places. There are dis­tinct link­ages between the first three levels and the last two, so none of these con­trol meas­ures exists in a vacuum.
The five-level hier­archy includes:
Inher­ently Safe Design;
Engin­eer­ing Controls:

Bar­ri­ers (Fences)
Enclos­ing Guards
Fixed Guards
Mov­able Guards includ­ing Adjustable and Self Adjust­ing Guards and Inter­lock­ing Guards with or without Guard Locking
Safe­guard­ing Devices includ­ing Light Cur­tains, Fences and Beams, Safety Mats, Area Scan­ners,

3D

vis­ion-based sys­tems and two-Hand Controls
Aware­ness Devices includ­ing lights, horns, buzzers, mark­ings, etc.

Inform­a­tion for Use includ­ing Oper­at­or Screens (

HMI

screens), Manu­als, and Haz­ard Warnings
Admin­is­trat­ive Controls

Train­ing
Safe Work­ing Pro­ced­ures includ­ing

HECP

, Per­mit to Work, Con­fined Space Entry, etc.
Super­vi­sion
etc.

Per­son­al Pro­tect­ive Equip­ment (

PPE

)
The con­trol meas­ures can be applied in the order giv­en in the hier­archy, or you can simply apply all of the con­trol meas­ures that apply to the design, depend­ing on the school of safety think­ing you fol­low. Con­trol meas­ures are gen­er­ally most effect­ive at the top of the hier­archy and least effect­ive at the bot­tom. All may be neces­sary to reduce risk to accept­able levels.
Residual risk
The pro­cess is repeated until all of the con­trol meas­ures in the hier­archy have been exhausted. The risk that remains is called the resid­ual risk. Often the resid­ual risk will be with­in "tol­er­able" or "accept­able" levels, but in some cases, it may not.
Tolerable or acceptable risk
The level of risk that is con­sidered tol­er­able or accept­able is a mov­ing tar­get, unfor­tu­nately. It can vary by the activ­ity, the people involved, the level of bene­fit the par­ti­cipants receive from the activ­ity, and many oth­er factors. Gen­er­ally, most jur­is­dic­tions around the world have legis­la­tion that reg­u­lates the max­im­um risk that cit­izens can be exposed to. Examples are the lim­its set by the US Con­sumer Product Safety Com­mis­sion, Health Canada, and the EU's Gen­er­al Product Safety Dir­ect­ive and the RAPEX system.
ALARP
The risk that has been reduced to levels that are at least tol­er­able is some­times referred to as "ALARP" for "As Low As Reas­on­ably Prac­tic­able" or "ALARA" for "As Low As Reas­on­ably Achiev­able." This concept arose in UK law and is recog­nized in some oth­er jur­is­dic­tions globally.
Many labour organ­iz­a­tions have sig­ni­fic­ant prob­lems with the ALARP concept. The con­cern is that risk reduc­tion will stop once the risk is deemed to have been reduced ALARP. The prob­lem is that the work­er who is actu­ally exposed to the risk may not real­ize the risk or agree to accept the exposure.
How far do you have to go in reducing risk?
Risk con­trol is nev­er com­plete unless the haz­ard has been elim­in­ated or the risk reduced to the point where it is con­sidered broadly accept­able. New tech­no­lo­gies and con­trol meth­ods will be developed as time passes and must be imple­men­ted to main­tain the low­est pos­sible risk.
There are always fin­an­cial con­sid­er­a­tions in con­trolling risk. If you are deal­ing with a risk that involves a sig­ni­fic­ant sever­ity of injury and the con­trols seem too expens­ive, you should con­sider not pro­ceed­ing with the project/product/machine. It is nev­er accept­able to leave an uncon­trolled risk when there are risk con­trol meas­ures avail­able, and the sever­ity of injury is any­thing more than a minor cut or bruise.
Types of assessments
Risk assess­ments can be Haz­ard Based, mean­ing that haz­ards are assessed without spe­cif­ic ref­er­ence to tasks that work­ers are expec­ted to carry out, or they can be Task Based, where haz­ards are assessed based on the spe­cif­ic tasks that work­ers must carry out. This type is also called a Job Haz­ard Ana­lys­is or a Task Haz­ard Ana­lys­is.
Risk assess­ments can be object­ive when there is suf­fi­cient data avail­able to allow the sever­ity and prob­ab­il­ity factors to be quan­ti­fied, but often this is impossible. Sub­ject­ive risk assess­ments are based on the com­bined know­ledge and skill of the risk assess­ment team that is assigned to the task.
At the simplest level, "What-if?" ana­lys­is can be used to get a quick read­ing on risk. Most of us do this daily as we get ready for our com­mute to work, when cross­ing the street, and when con­sid­er­ing large pur­chases. What-if ana­lys­is con­sists of ask­ing as many what-if ques­tions as neces­sary to exhaust the poten­tial scen­ari­os that can be ima­gined. For machinery, this may be a place to start, but it is sel­dom detailed or com­pre­hens­ive enough to be effect­ive. Addi­tion­al tools are required.
For more inform­a­tion, request a FREE Con­sulta­tion, or Request a Quo­ta­tion!
Risk assessment standards
There are a num­ber of risk assess­ment stand­ards pub­lished, and there are an even lar­ger num­ber of product fam­ily stand­ards that have risk assess­ment meth­od­o­lo­gies built into them.
Until 2010, ISO 14121 – 1 was the de-facto pre­ferred stand­ard for machinery risk assess­ment. When ISO 12100:2010 was pub­lished, it included the com­bined text from ISO 12100 – 1, ISO 12100 – 2 and ISO 14121 – 1. The second part of ISO 14121, ISO/TR 14121 – 2 – Safety of machinery — Risk assess­ment — Part 2: Prac­tic­al guid­ance and examples of meth­ods, was not included in the new doc­u­ment and is still pub­lished and val­id as of May 2021. If you are look­ing for a guid­ance doc­u­ment that includes an example of a risk mat­rix and a decision tree, this doc­u­ment will be help­ful for you.
ISO 12100 deals primar­ily with the Pre­lim­in­ary Haz­ard Ana­lys­is (PHA) meth­od, and provides guid­ance on using FMEA, MFMEA, FTA, HazO­PS and oth­er sys­tems to ana­lyze the risks.
CSA has embed­ded the ANSI RIA R15.06 risk ana­lys­is scor­ing sys­tem in one key Cana­dian machinery stand­ards, CSA Z434 – Indus­tri­al Robots and Robot Sys­tems – Gen­er­al Safety Require­ments. This stand­ard com­bines ISO 10218 – 1 and ISO 10218 – 2 into a single doc­u­ment. Note that because CSA Z434 is based on ISO 10218, you can still use ISO 12100 as the basis for your robot sys­tem risk assessments.
Inter­na­tion­ally, ISO and IEC pre­par­ing to pub­lished ISO/IEC 31010, Risk Man­age­ment – Risk Assess­ment Tech­niques. This stand­ard is part of the new ISO 31000 series on Risk Man­age­ment. This stand­ard is focused on busi­ness or organ­iz­a­tion­al risk rather than machinery risk, although the basic prin­ciples used are the same.
ISO has also pub­lished a new OHS Risk Assess­ment stand­ard, ISO 45001:2018, Occu­pa­tion­al health and safety man­age­ment sys­tems — Require­ments with guid­ance for use. This stand­ard has also been adop­ted as a Cana­dian stand­ard as CSA Z45001:2019.
CSA pub­lished its own OHS risk assess­ment stand­ard, CSA Z1002:2012 – Occu­pa­tion­al Injury and Ill­ness Risk Assess­ment and Man­age­ment. This stand­ard is part of the CSA Z1000 series of stand­ards deal­ing with Occu­pa­tion­al Health and Safety Man­age­ment. Com­pli­ance InSight Con­sult­ing is con­trib­ut­ing to the devel­op­ment of CSA Z1002 dir­ectly with the involve­ment of Doug Nix on the CSA s362 Tech­nic­al Committee.
Risk assessment software
A few soft­ware vendors have developed risk assess­ment soft­ware pack­ages to assist in the risk assess­ment pro­cess by hand­ling the scor­ing cal­cu­la­tions auto­mat­ic­ally, and in some cases allow­ing for revi­sion con­trol and many oth­er features.
For many applic­a­tions, it is pos­sible to devel­op risk assess­ment scor­ing sheets using stand­ard spread­sheet applic­a­tions like MS Excel™, Apple™ Num­bers™, Google Sheets™ and many oth­ers. These can be very flex­ible but usu­ally can be cum­ber­some to main­tain over time. This short­com­ing can be over­come with doc­u­ment revi­sion con­trol soft­ware that can man­age any kind of file.
There are oth­er soft­ware pack­ages avail­able to assist you with risk assess­ment. We don't cur­rently have a pack­age that we recommend.
Risk assessment facilitation and training
For those new to risk assess­ment, we can provide train­ing and facil­it­a­tion ser­vices, as well as con­duct­ing risk assess­ments on your products. We have both pub­lic and private train­ing available.
For more inform­a­tion, request a FREE Con­sulta­tion, or Request a Quo­ta­tion!
ADDITIONAL
INFORMATION
For more inform­a­tion, check out these resources:
List Servers
riskanal
The RISKANAL Inter­net mail­ing list is oper­ated by the Pacific North­w­est Labor­at­ory and Soci­ety for Risk Ana­lys­is' Columbia-Cas­cades Chapter. Any­one with an Inter­net account/address may sub­scribe to RISKANAL.
In order to sign up for RISKANAL, simply send the fol­low­ing mes­sage, repla­cing YourFirst­Name Your­Last­Name with your own details:
sub­scribe riskanal YourFirst­Name YourLastName
to the email address:
The list­serv­er will respond to you to let you know if you've been successful.
---
Associations
ASSE: Amer­ic­an Soci­ety of Safety Engineers
SAR: Soci­ety for Risk Analysis
IEEE Product Safety Engin­eer­ing Society
---
Books
Risk Assess­ment: Basics and Bench­marks, Bruce Main. See the IEEE Xplore Review
Innov­a­tions in Safety Man­age­ment, Fred Manuele, Sept 2001
On the Prac­tice of Safety, Fred Manuele, 3rd edi­tion, 2003.
---
Podcasts
PreAc­ci­dent Invest­ig­a­tion Pod­cast (USA) – Dr. Todd Conklin
The Safety of Work (Aus­tralia) – Dr. Drew Rae and Dr. Dav­id Provan
---
Web Sites
CCOHS: Cana­dian Centre for Occu­pa­tion­al Health and Safety
Risk Ana­lys­is – risk ana­lyst social network